Let's talk about what I'm doing, and why. It's not crazy. It's not stupid, either. But it takes a little bit to explain the process.
Here's my 512 map, for my LightMech skin: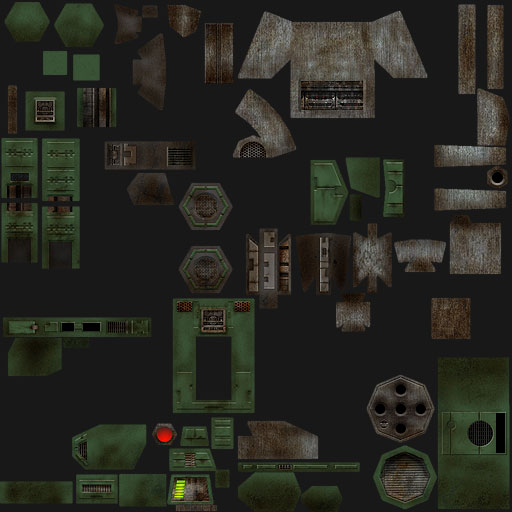 Wow, that looks
terrible
right? Huge, wasted space.
Know what I'd redo, if I went back again, now that I've seen it all in game? I'd move the two hexagons for the sides of the legs (upper left) together, to share one space, and the two "leg vents" (near the middle) together, totally mirroring it all. I'd make the now-single hexagon for the leg vent bigger. Not much, just a bit more, so that I could use my next-larger version of my repeating round-vent texture.
And that's it.
I'd end up with
more empty space at the end, too
. The other stuff does not need to be bigger, or have more detail- the guys are maybe 32 pixels on a side, at typical zoom. And even at screenshot zoom, they look just fine: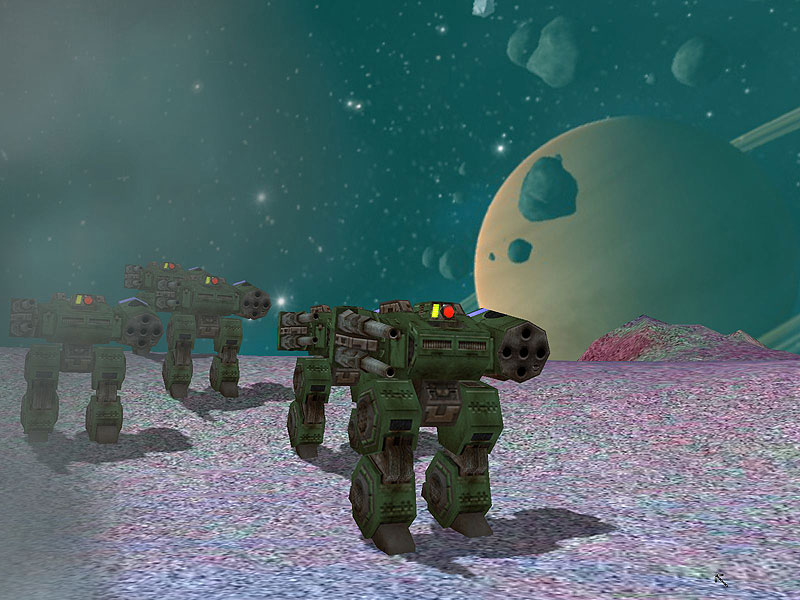 Now, what is the lesson I want to impart here? Simple.
Cramming your uvmap as much as possible is not necessarily a virtue.
Detail levels are more important than uv space, in my book. So is having room for mistakes, kitbashing, and other things.
What is a detail level? Simply put, it's the amount of perceived space vs. the actual space. Or, to get technical, how many pixels of texturemap lie within a given set of uv coordinates.
This isn't a straightforward, there-can-only-be-one-rule sort of thing. It's an art. But here are some handy rules of thumb.
The bottom of a tank, or any other large object that doesn't fly, has a detail level of practically zero. Players never see it. No point in giving it a lot of space. People do it all the time, and then act as if they've been virtuous, by using up their entire uvmap efficiently. That's like praising yourself for gluttony, folks. Don't do that. If players can't see it, it should use as little space as possible. Save it for stuff that matters.
Same goes for small modeled details. Does a small tube need to have the same detail level as the top of a tank's turret? No. That'd be silly- players can hardly see it anyhow. Yet I see people do it all the time. Idiotic. Why waste lots of texture space on some pipe, that could just be a gray gradient with soft airbrush, when players will never see any more than that?
Give it less space... and if you're worried about screenshot-worthiness, confuse the issue by using the airbrush to blur things out a bit. That's what the pros do. Smoke and mirrors, people. Smoke and mirrors. We aren't building models for ourselves. We're building them for an audience. And the audience cannot see certain angles, and is usually at a long distance. Take full advantage.
The converse is true. Do you want an area to pop out with detail, and need the space? Give it to that area, at the expense of smaller stuff,
even if that makes your use of space inefficient
. Base your need on what you think you're going to need to get enough painted detail in. For example, if you go look at the map, the size of the "face" is disproportionate to the rest of the uvmap, to give me extra room to work with. Same for the red eye. Same for the barrel of the twin cannons. Extra detail, for the areas I thought would need it. Just one of those things that you have to try a bit, and fail a lot, before you will figure it out, trust me.
This gets a lot easier to figure out, with practice, when you know how you're planning out your painting well in advance of actually doing it. You can see, at a glance at one of my uvmaps, which ones I struggled with the color scheme the most- the maps are tightest. The really loose ones were ones where I knew exactly what I wanted, and where I'd want detail, before I got serious about laying out the map. Sounds nuts, but it's just how it works, for me.
When I design a uvmap, these are the assumptions I use:
1.
Mistakes will happen.
You may need to rework part of a map, or a model. Plan for it, leave yourself room for "oops". Then you won't have to start all over again. Sometimes I get all the way through painting, then have to change some physical part of a model, because I screwed up. It's called "being human", and it's just how it goes. I plan for it. Why repaint the whole thing, when you don't need to? Leaving plenty of space means you can often survive this.
2.
You'll never have enough space
, even with mirroring, for the areas you want the most detail in, without sacrificing heavily on ease of painting. And then you'll slow down. A lot. Because if one part needs a bevel of 43 degrees, and other needs 67, it's just a lot of extra, fussy detail. Why bother, when sacrificing some space can leave you with clean 90s? Think about it.
Moreover, every model is different. Things like tanks or cars invite mirroring, but you may or may not need to use full details on the sides, front and rear. It's better to assume yes, do a quick fill-test, then shrink some areas down, freeing up space for no. 1, above, than the converse, where you might not have room later, and be screwed.
3. As a consequence of assumptions 1 and 2...
assume you'll need to cram as much visual information into as small a space as possible,
and plan accordingly while building the map. This often means giant space wasted. Oh frickin' well. If we were in the Quake days, I'd be painting a pixel at a time, to get good results in a 128 or 64, but I don't think I'd change my method much, it works pretty well. And we're not in the Quake days- nobody uses that low of a spec any more, unless they're goofing off, or doing a contest. It's not imperative that we grab every possible pixel. Just that we grab enough to get the job done. Go grab a professional map, sometime- they aren't perfect, either.
Heck, why take my word for it? Here's the uvmap for the Land Raider, from Dawn of war. It features no mirroring, even though it would've been smart, among other issues: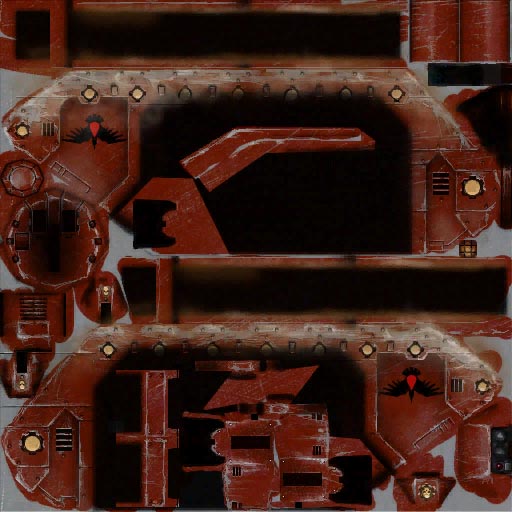 That's one of
three large textures
, folks. From a pro. I make do with 1 512. Am I starting to sound a little less insane now?
Sure, this skin looks good, but it could have been a
lot more efficient
. This guy didn't even try.
Now, that said, the Marine textures are marvels of efficiency- all of the Marine stuff, for a whole guy, upgrades and all, is in a 512/256. Just wanted to put that on record- when the DoW people really, really wanted to, they were efficient as all get-out. But I'll bet it took them quite awhile, just to get the model and all of the maps sorted out, and some test runs to make sure they had the detail levels right..
They
also
lack mirroring in places I would have- stuff like the undersides of the rims of the shoulder pads, and other areas. But, meh, they were under deadline. Oh, and it's obvious that they painted at twice rez, then shrank it, then sharpened, then cleaned pixel-by-pixel, by hand. Very hard lines in places. Very soft in others. It's why the skins look pretty grainy in spots in Army Painter, and blurry in others. But my hat's off to those guys, for making it look as good as it does, that close up.
Now, I get a model edited, uvmapped, and painted, in one night, when I'm motivated and know what I want. Making it easier to keep good lines and good bevel lighting, for example, saves a lot of time in the long run. And I group uvmap sections by what object they're in, because that makes it easy to paint by eye very rapidly, keeping levels of color and shade about right. These things all "waste space".
So, we done now? Or do you want me to run a contest, and we can find out how good I am against people all starting with the same model, no uvmap made, and some rules about color choices? I'm game, if you people are... bet you can't meet a 6-hour deadline, though