Far into the future, different factions fight throughout the galaxy for control of resources using armies of advanced machines...
"Metal Factions" is a game for the spring engine with four original factions: AVEN, GEAR, CLAW and SPHERE. Many units are similar to the ones from Total Annihilation (this started as a TA mod), but there's different balance and some new mechanics.
It should favor small to medium battles and micromanagement as economy growth depends on map control and units are relatively expensive.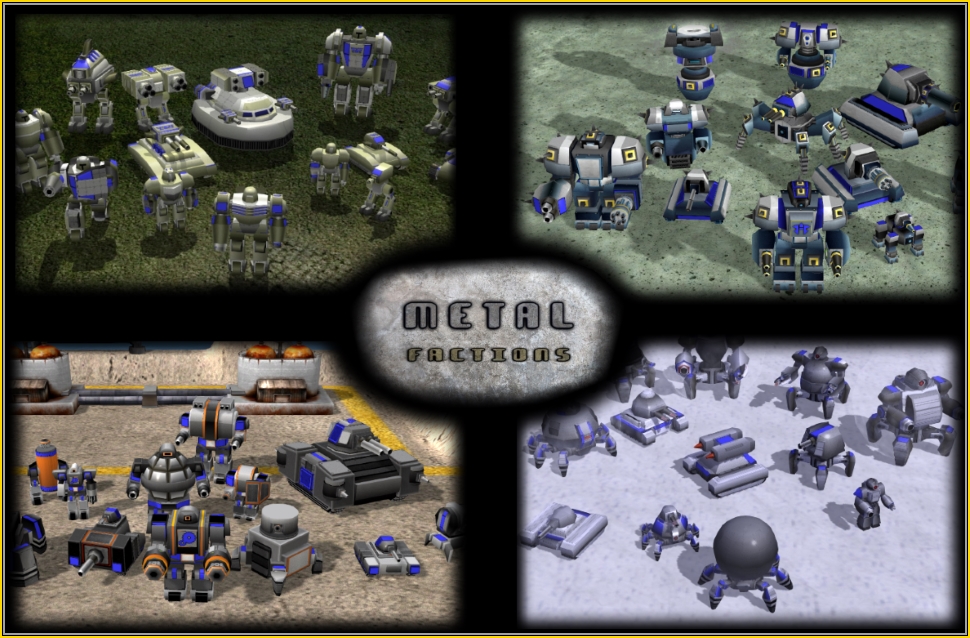 Check the web site at http://www.metalfactions.pt for more information!


--------------- EARLY DEVELOPMENT NOTES ------------

In the early 2000's i started dowloading and making units for the original total annihilation game. Over time i made dozens of units, not nearly as polished as many i've seen, but had fun playing on lan with friends. Despite playing Starcraft and mostly warcraft III expansion online for years, I never tried Total annihilation. I saw Spring but didn't try it until late 2009, when i started playing XTA.

It was fun, but somewhat frustrating. And part of the frustration was common to other *A mods, and resulted from the confusing role of the commander. In my opinion, the concept of the commander exploding and taking most of the surrounding friendly units with him is broken (it already was on the original TA). Although often seen as dishonorable, using the commander as a walking bomb to gain the upper hand is often the best use you can give him....Having your commander around should never be a liability. The fun factor of the game also suffers for players when they lose their commander. I think the way commanders (heroes) were implemented in warcraftIII leads to more interesting gameplay:
- they get stronger as the game progresses
- they can be easily ressurected when killed
- they can evolve in different ways
- they are always good to have around (not a walking bomb)

For the fun of it, I had made a program to parse my old OTA mod files and try to get balance information from it (evaluating units based on what they can do for their cost). I changed the program to parse Spring mod files (fortunately they were mostly the same). The usage of automatic unit evaluation and pricing means that costs can vary slightly for most units from one patch to another.

I used XTA 9.6 as a base for a mod called "TA Factions", so it has some of the models and effects Noruas and earlier developers put into it (although i reworked most explosions to make them more consistant and less resource-intensive). I also imported some of the later changes made to it by Deadnight Warrior (some script changes, collision fixes and gadgets). Also, some units were remodelled and others repurposed. I still use 3do and cob instead of lua, so i won't make super-detailed units (i put more effort in improving animations and design consistency). I polished some of the original 3do models though.

Since 2014, I've replaced most textures, replaced ARM and CORE factions with AVEN and GEAR and changed the game name to "Metal Factions". Check the website for more information.



WARNING : I changed this post long after its creation which means that the following posts may be out of context




--------------------- NEWS / RELEASE NOTES ----------------

you can read the changelog at http://metalfactions.pt/changelog.html