So as part of my earlier post to picasso I wanted to make a thread on some thoughts I have been putting together. This may well be a wall of text and I full expect people to troll this thread but I am going to this post anyway.
Let's get the preliminary part out of the way.

But you hated BA+Speedmetal.

I did because speedmetal breaks the gameplay by altering the speed of units. It was entirely metal and had one pathway leading to very poor gameplay. I am not encouraging discussion of this I am just saying why I hated it and felt it was bad.
So, why is dsd good?
Well that is not a simple answer so I have to go into a few thoughts and observations of rts gaming that I have had over the years.
Lets first go over the average player
Most players are not the competitive 1v1 types.
This is true, most gamers do not crave an intense challenge of 1v1 tooth and nail gameplay. it is a part of the community but a majority prefers team matches and comm stomps(vs an ai). This is done for a few reasons:
New players want to feel they get to play.
In a competitive 1v1 tooth and nail match they will absolutely be the enemy target and possibly will lose. Sometimes they may win but most people are sore losers and will rage and complain when they lose.
Players don't like to lose and love to feel like they won.
You know that guy who sits in the back playing with himself all match? yeah that guy. Well he is most gamers. Gamers these days are used to rapid save/load mechanics, easy wins to the point that many games have gone from challenging to grind(WOW and many mmos) They are not challenging except for the first time someone runs them. Afterwards it is broken down to a repeatable formula that people mindlessly rehearse and the only wrench in it is that 12 year old kid who refuses to follow the pattern
How does that explain anything?
By being in the back of the team they feel they have done something useful and have accomplished the win even if they didn't really help.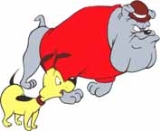 see chester(the little yellow dog) that is your average gamer,
hides behind a stronger ally to feel that he is strong
How does dsd helps this? I mean, I am not seeing the point!
Dsd helps because often the new guy can sit in the back and "tech." The better player will eventually get some use out of the noob "hey new guy you can build nooks!" newguy:"holy crap, I want those, how do I nooks!?!" This gives the player a role and allows him to contribute. Eventually the noob will either want his own piece of the action and graduate to a frontline player OR he becomes an actually useful tech or air player.
So why do we need those guys?
because we want warm bodies
Fact of the matter is there are NOT enough players in spring. These days gamers are more demanding, they want to come online and be greeted by 1000s of players all playing different matches so they can quickly join and get started. Without numbers people come online and find no matches readily available and will leave for the nearest tripple A title, which will have this player count.
That is illogical player count has nothing to do with quality.
Quality is a LOL qualitative property. You cannot have something be worth more just by virtue of it being free. "something is only worth what others are willing to pay for it." People see no games as a measure of how fun something is. Unless they are trendy douches then they only play unpopular games.
So what, they can still play!
Can they? or will they get mercilessly slaughtered? It happens in any game, the population goes small, a hand full of diehards stick around, no new player stands a chance. I have watched this since '98 when I used to be the diehard shogo player. Well spring has been around for 5 years, new players will within the evening meet stronger more experienced players who despite trying to take it easy will accidentally crush the new player. This drives people away.
Again, I am not seeing it smoth, what does this have to do with DSD?
Dsd is the noob stomping ground, the shithole that they can wallow around in and be nooby. They will not be insta crushed and there are enough people around that even if it goes down to 4v4 there is a good chance there will be at least 1 shit player on the other team.
So how exactly does this help the community?
Fact of the matter is we need all skill levels of players.
Remember how I talked earlier about the players not finding enough people at their level? This quagmire acts like a tarpit trapping creatures in it. Some are strong enough to escape others stay there. For the ones that are strong enough to escape..
They can grow to be mighty and the rest stay to feed it.
But in the mean time they are not in my 1v1 or my tabula match
if they were you would just eat them alive. They would not stick around, there are other games that they can "win" in.
FINE let them leave!
And we are back at square one. You know how you are tired of that same circle jerk with the same guys. Yeah well have fun being alone.
You need people to join, have the chance to become good and then give you a good fight, otherwise you will just play with the same faces FOREVER. Because let me tell you, there are many other games they could play with FAIR competition.
Oh please smoth, I'll just teach them to be better and they will learn
That's pretty arrogant. Like you are the best? Who says they WANT your advice. Esp when 90% of the time it is assholes or trolls barking orders at new players. You guys come off like this:
That is no good. Fact of the matter is if they want help, a few matches and they will ask for it. You can say, "hey, need a hand guy?" and that person might take you up. Odds are they will, after they lose. No amount of tutorials will stop this. It is human nature and has happened since the beginning of gaming. Also you are not here to work, you are here to play not train people in spring.
"yeaaaaaaaaaaah, I'm gonna need you to build that LLT"
*Edit to fix images*