For our purposes around here, it's hard to make good trees. I haven't been happy with most of the tools I've tested, and have done hand-built trees, because it was the only way to keep the tricount down and look good.
I think this one, along with a modified shader specifically for trees, will be a big winner. It's the only program I've used that is pretty close to doing it by hand.
The program is called tree[d]. I tried it out awhile ago, and walked away annoyed, because it was nice but it only exported B3D and X formats, both of which are distinctly non-portable unless you can afford Polytrans or like being frustrated with the free tools.
The coder apparently came back to it, and the current version allows for OBJ export, can be used to build branches for billboards that you can then use in the program very easily, has good low-poly functions using simple billboards (if there's interest, I can prolly explain how to do it, as that's not entirely easy) and is, in short, a very very nice tool to make good trees with at different polycounts, and it has built in tools for rendering LODs for billboards.
This is for a high-poly environment, 965 tris: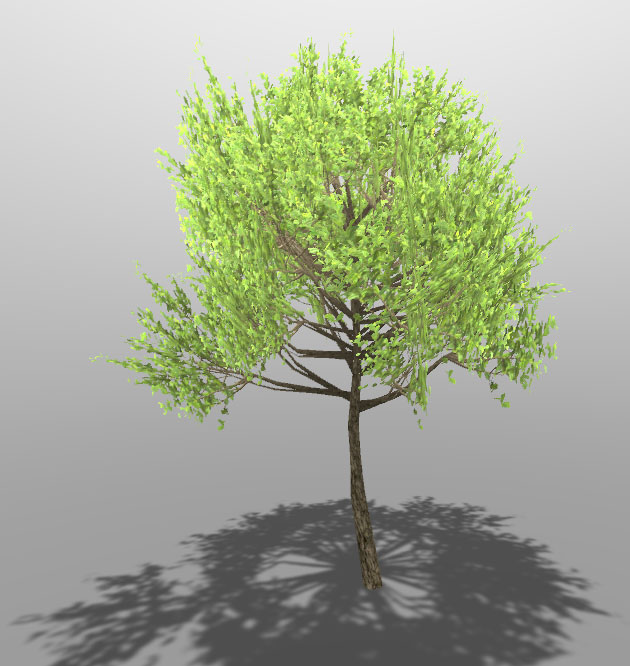 RTS spec, 163 tris (
not
optimised for underside faces, it could probably shave down to 120 or so):
Oh, and lastly, it allows for dynamic changes to the number of branches whilst retaining fairly good shape. So you can build LODs for trees pretty much by just reducing the branches. Not quite perfect, but that's basically impossible.