A COMPETITION?
Delta seige dry and Tabula are represent the two most popular big-team-game maps. This is because they have a variety of terrain, which allows the use of a large variety of diffrent unit types, they are attractive to look at and they have metal and room for 5v5 and larger games (which are very popular). However, while both these maps are great, they are still largely vehicular maps and noticeably, spring really lacks a decent, large team game kbot map atm; most maps with hills end up being rather porcy, which is somthing mapmakers will need to try and avoid
What I'm proposing is that all our resident map makers gear up for a freindly competition to each make their own "showcase" kbot map, a large-teams map that is both awesomely attractive to the eyes and interesting from a gameplay perspective, so we have a bigger portfolio of big, pretty maps to show off spring with
The specifications of entry:
1) Map to be perfectly playable 4v4, but also with the start positions to support 6v6 or more
2) Map to have at least one facing of 16x or greater but be smaller than 20x20 (for performance reasons)
3) Map to "go easy on the chokepoints" - while new players do appreciate chokepoints, bearing in mind this is a kbot map ensure that if there are chokes that there are more options avaliable for all terrain units.
4) Map to look sexy- this should be easy looking at the production of the last six months! WiC and world editior and all the new techniques that have cropped up aught to make creating showcase maps easier than ever. Moon maps, desert maps, acid maps, tropical maps, lava maps... as long as it looks pretty, anything goes
Deadline for the competition to be the 20th of April, at which point I'll put up a poll and we all vote on which map we like the most (I'll keep it open for 14 days so everyone has time to play the map and put it on autohosts etc) and at the end we announce the winner, whose name shall live on in eternal glory!
WHAT IS A KBOT MAP?
To clarifiy, when I say "kbot map", what I really mean is a map that mixes flat plains on which to construct bases and use vehicles, with the presence of mountains, ridges, valleys, ramps and changes of altitude throughout the map. A decent example of Kbot-map would be the top and bottom of Tabula (a series of hills, ramps and flats).
This map would be well suited to CA, EE, S44 and any other map where terrain makes more interesting gameplay
interesting features for kbot maps:
* Metal spots on little hillocks that vehicles have trouble reaching
* "shortcuts" where a kbot passable hill undercuts the route a vehicle ramp allows
* ambush flats, where a flat area is flanked by a hillock or ramp that only kbots can traverse, for kbots to escape up or attack down
* Geothermal vents in elevated places
* Easter egg resources, such as a geo or metal spot inside a pit or volcano that only terraforming, air or use of an impulse weapon can allow you to reach
* Bat caves: much like the penis-mountains on tabula- places where kbots can make a top secret base that is difficult for vehicles to acsess. this could just as easily be an island a little out to sea (red triangle style) or on a raised platform (charlie in the hills style)
* Rocks- to encourage the early appearance off air and/or cons in the middle, also allows a player to faster tech in a teamgame
* Trees - be wary of including too many, all the most popular maps dont have trees for the reason that for players on low graphics they look horrible, for pro elite players they block projectiles unpredictably and in general they just dont look as good as they should
* Water- tundra was an excellent demonstration of how water can be used to mask map edges. considering that every map should be a work of art, this is an interesting feature to play with. plus, small amounts of water in intelligent positions can add interesting tactics into the game (jumping cans over the lakes on tabula in ca, or building tidal farms on a land map..), maybe even anphibs if a game porcs up.
THE ENTRIES:
These will be updated as maps are released and patched
Beherith
Conquest of Paradise
Maplink:
http://spring.jobjol.nl/show_file.php?id=1840
Xenolithic
Maplink:
http://spring.jobjol.nl/show_file.php?id=1854
Hunterw
Talus
Maplink:
http://spring.jobjol.nl/show_file.php?id=1949
Midknight
Ice Mountain
Maplink:
http://spring.jobjol.nl/show_file.php?id=1958
Genblood
Paradise-Dry V3.1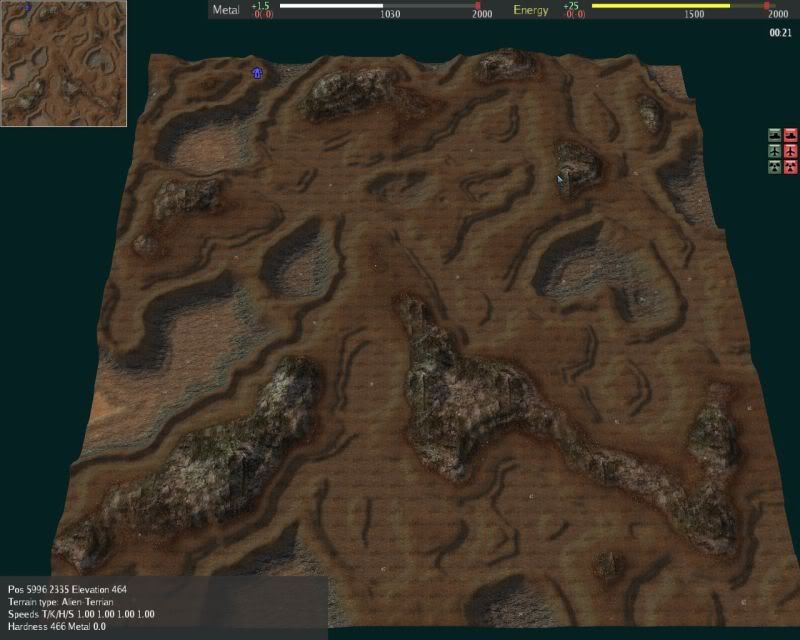 Maplink:
http://spring.jobjol.nl/show_file.php?id=1963