Taco n' Banana (Abbr. TnB)
"A serious HL2 roleplaying community"
Taco n' Banana
is a serious Half-Life 2 roleplaying community for Garry's Mod. With over 760 daily active members, it can be said that
Taco n' Banana
is one of the largest serious Half-Life 2 roleplaying communitys.
Taco n' Banana
runs a unique script (Tacoscript) coded specifically for TnB, the script is constantly updated with new features, be it new models, or new items, or even new roleplaying commands! Unlike most roleplaying communitys, TnB has a friendly and mature playerbase of over 1,000 members which is steadily rising.
Build your own unique character from scratch (Choose your model, your base stats, name, backstory, sex and your age, plus much more) and begin your life in the HL2 world. Develop your character's personality, get enlisted into the CCA and work your way through the ranks, or if you're more daring conduct anti-civil activities. If you're into more passive roleplay you always have your good ol' fasioned citizen.
Taco n' Banana
has FOUR servers, each give a different perspective of Half-Life 2 roleplay. (City [S1], Precinct[S2], Outlands[S3], Combine Inner Nexus[S4]). Never get bored of the scenery with there being plenty of different maps to play on, some even being/designed for TnB itself! Like the mysterious City 8 which is set in the Combine controlled Japan.
Want better stats? Or a custom model? Or more tokens to become the richest oppressed citizen on the planet? Then look no further, you can always donate to TnB for bonuses. Your donations go to paying for the servers, and enhancements to them.
If you're a fan of Half-Life 2 and Roleplay in general, then
Taco n' Banana
is for you!
Site URL:
http://www.taconbanana.com/forums
Screenshots;
Antlions swarm a small pocket of CCA in the Plaza. (From an Event)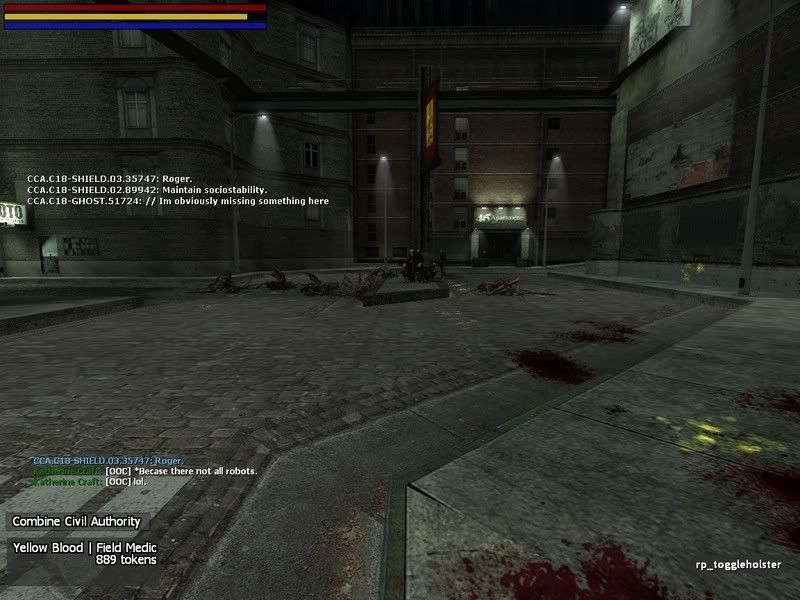 A citizen riot mini-event
A combine civil authority training session